Previously, I introduced you an addon called Autofill Forms which really speed up a form filling process of standardized forms by pre-saving their values. Good example of the use is WordPress comment form with its name, email and homepage fields.
If you have no ability to pre-save values – you see form for the first time – and you know that certain data such username, email or description will be required, you can use InFormEnter for fast form filling. InFormEnter add clickable icon next to input or textarea fields. When you click on this small icon, you will see list of options that can be inserted.
How to insert new or edit saved data
You can edit saved data or insert your new one by 3 ways:
1. Type in your email address, click on small icon next to input field and select from context menu Add text to profile.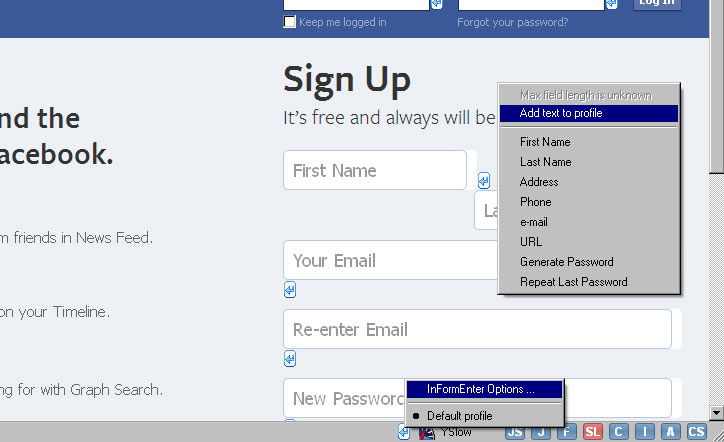 2. In Add-on bar (View > Toolbars > Add-on bar or Ctrl + /) click on InFormEnter icon and from context menu select InFormEnter options. In Add-on bar you can also change between different saved profiles (data for comments, data for registration…).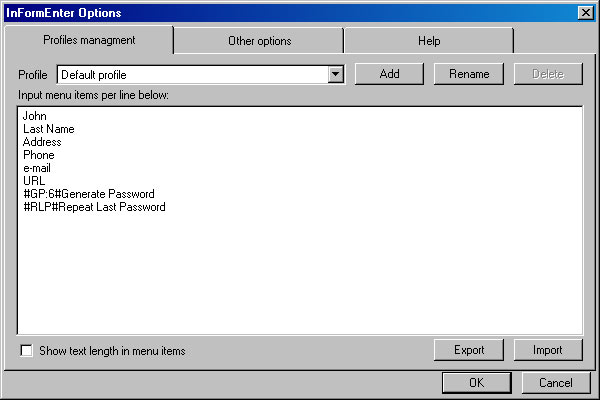 3. This main edit-and-insert- data dialog can be also opened at path Tools > Add-ons (Ctrl + Shift + A) > InFormEnter > Options.
I use this addon during directory submission because well established directories require mostly same kind of information: website title, website URL, list of keywords, my name, website email, short website description. Plug-in radically speeds up process of registration across various directory platforms.
Author of this productivity improvement utility is M. Onyshchuk. InFormEnter can be downloaded here.