Today I would like to introduce you Autofill – great Firefox add-on. It fills out a pre-saved web forms within a second. Plug-in works with any type of valid form fields – input fields, textareas, selects, radio buttons, checkboxes…
NOTE: form-data are stored unencrypted on your hard disk so when you are done, remove all pre-saved forms.
Author of this utility is Tohodo.
How does Autofill work?
Here's the principle of the tool: every form field has an unique ID called name. During the filling process Autofill seeks for this ID and match it with pre-saved values of the currently selected profile.
Every time you save new profile, form is saved for a particular website. In our case, there is the rule – use this profile for url Facebook.com. You can easily edit or remove any rule. It can be done through Tools > Add-ons > Autofill > Preferences ("3 dots" icon) or by right-click on plug-in icon (such yellow flash) in Navigation toolbar.
For example, when you remove rule from "site" column, you can use saved rule to fill forms with same field name across the internet.
How can you use Autofill to fill forms?
It is really simple, just follow these 3 steps:
Fill out form
Mouse right click into some form field and choose Autofill > Add rules for this page
Reopen website and by click on the yellow flash icon in navigation bar fill the form within a second (or right click on the form > Autofill > Execute profile)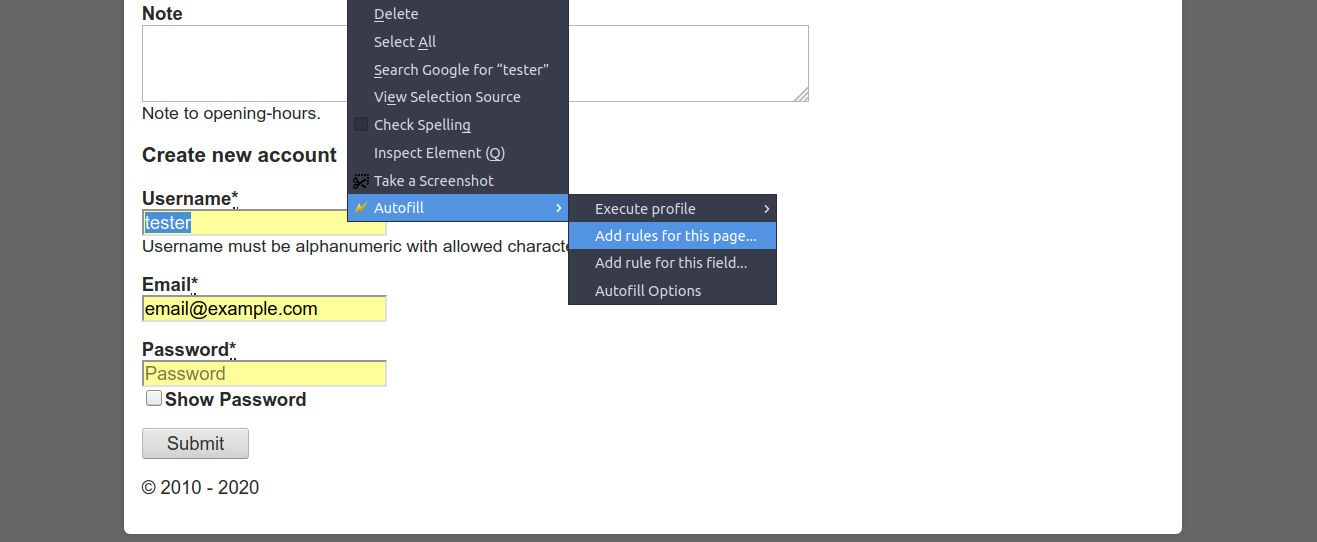 Is there any other option for fast form filling?
Autofill used to speed up the registration process during directory submissions (directory submissions was a significant part of SEO few years ago). There are several types of CMS which power web catalogs such as phplinkdirectory.com or esyndicat.com (same field names across many sites). This saved me a huge amount of time – you can pre-save many values (note that you cannot pre-save captcha).
When there is no possibility to pre-save form values (or field names vary too much) you can still use InFormEnter add-on to speed up submission process a lit bit.