Today I would like to introduce you Autofill Forms – another great Firefox addon. It fills out pre-saved web forms within a second. Plug-in works with any valid form fields – input field, textarea, select, radio button or checkboxe and does not consume system resources during regular internet browsing (it is active only during forms filling). Stored data can be protected by Firefox Master Password.
Author of this utility is Sebastian Tschan.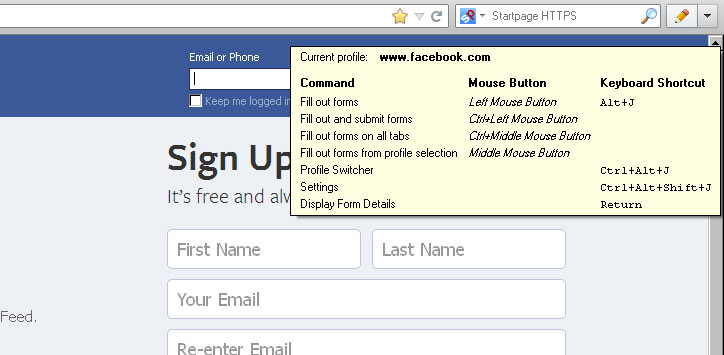 How does Autofill Forms work?
Here is a little secret how it works: every form and its fields have an unique ID called name. During filling process Autofill Forms seeks for this ID and match it with pre-saved values of currently active profile.
Every time you save new profile, form is saved for particular website. In our case, there is the rule – use this profile for url facebook.com. You can easily edit or remove any rule. It can be done through Tools > Addons (Ctrl+Shift+A) > Autofillforms > Options or by clicking on small arrow in plug-in icon (such yellow pencil) in Navigation toolbar. For example when you remove use-this-profile-only-on-facebook rule, you can use saved profile to fill forms with same field names across entire internet.
How can you use Autofill Forms to fill forms?
It is really simple, just follow these 3 steps:
Fill out form
Mouse right click into some form field and choose Add complete form as profile
Reopen website and using shortcut Alt+J fulfill form within a second (or click on plug-in icon)
Is there any other option for fast form filling?
Autofill Forms used to speed up registration process during directory submissions (directory submissions was significant part of SEO few years back). There are several types of CMS which power web catalogs such as phplinkdirectory.com or esyndicat.com (same field names across many sites). This saved me huge amount of time – you can pre-save many values (for example you cannot pre-save captcha).
When there is no possibility to pre-save form values (or field names varies too much) you can still use InFormEnter addon to speed up submission process a lit bit.