Detailed, step by step tutorial on how to take away (transfer) domain name from Godaddy.com to the Namecheap.com.
1. Buy a Namecheap domain transfer
Open Namecheap.com. In the main menu under the Domains select Transfer. Type in a domain name you wish to transfer from GoDaddy to NameCheap and click on red button Transfer.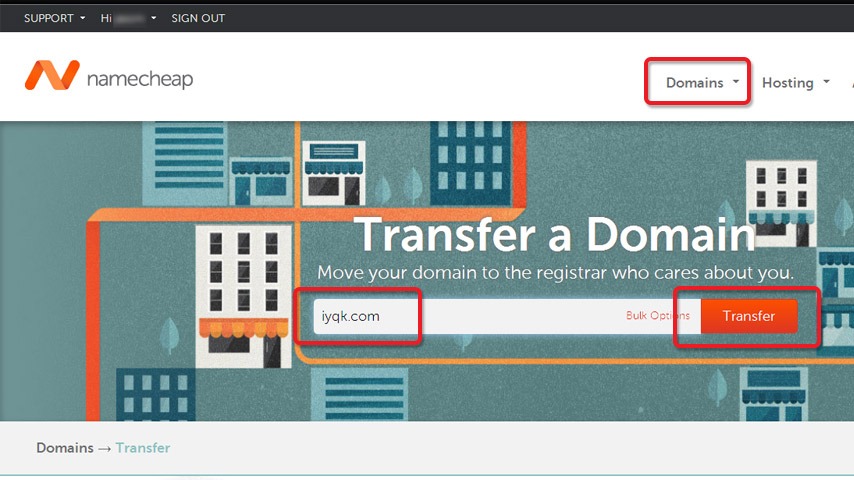 On the next page you will see the transfer details. In my case it was:
CURRENT REGISTRAR (Godaddy.com, LLC)
REGISTRATION LOCK (None)
ADMIN EMAIL (Unknown).
Only the CURRENT REGISTRAR is a fixed value for the purpose of this tutorial, others may vary.
I see None for Registrar lock because I have already unlocked transferred domain name in Godaddy's Domain manager (I will show you have to do it later in this guide). I see Unknown for Admin email because I have enabled private Whois record.
For now, it's only important to click on the Add to cart icon and then click on the View Cart red button.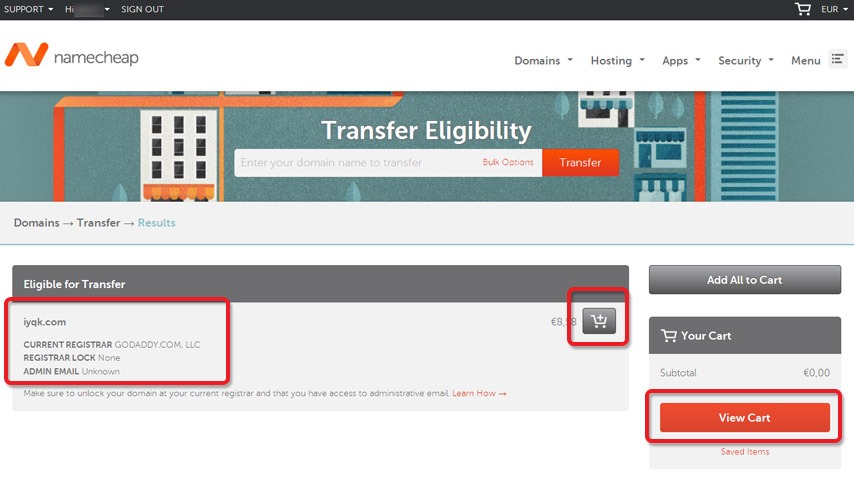 The next page shows cart details. In this case I have decided to order also private Whois record (WhoisGuard) enabled for 1 year. Click on the Confirm Order red button.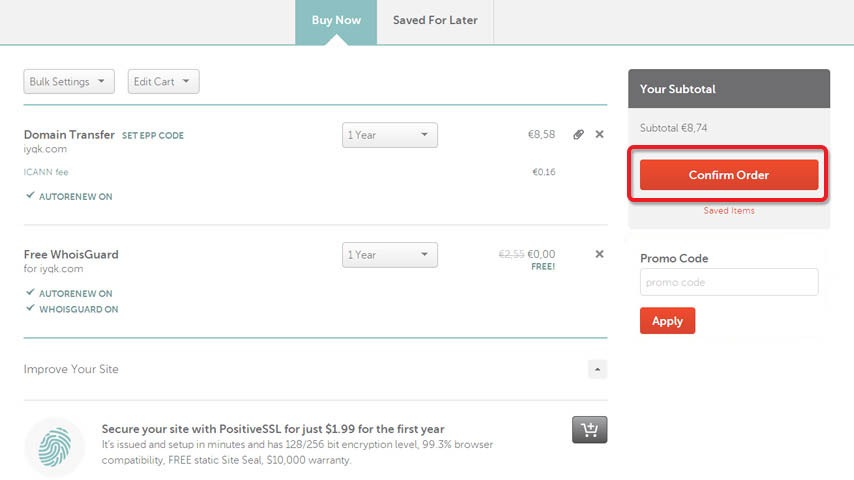 Select a Payment Method and click on the Continue red button.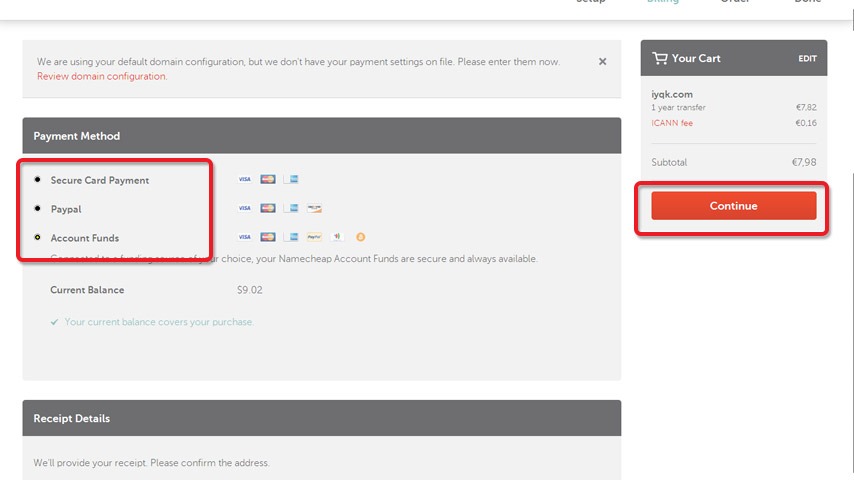 After a few clicks later (number depends on the selected Payment Method) you will see the Order confirmation page ("Thank you for your purchase!"). Congratulations, you have successfully bought a domain transfer.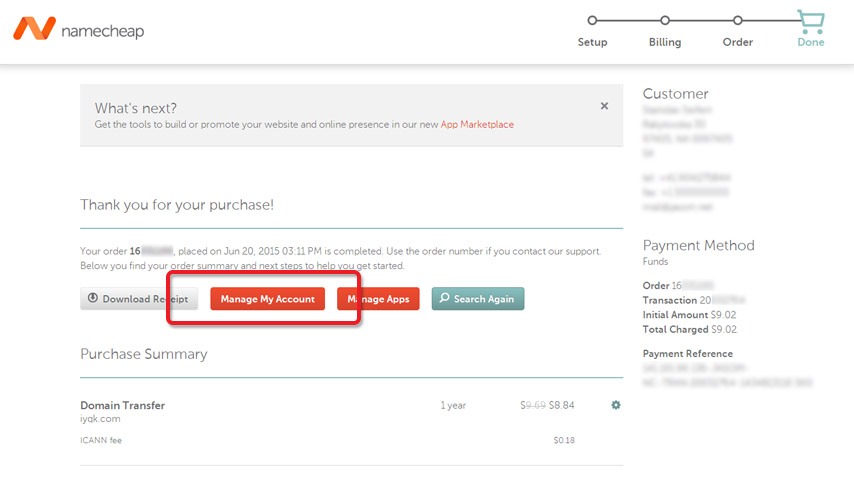 Prepare your domain for transfer within Godaddy
Congrats, purchase of the transfer is done. It's time to prepare domain for transfer within a Godaddy account. You need to:
Turn off the domain lock.
Cancel private registration if any.
Generate authorization code.
Note 1: If you updated registrant contact records (First name, Last name or Organization name) in last 60 days, your domain name will have 60-day transfer lock. According to the ICANN policy "60-day period is a security measure that helps to prevent domain names from being hijacked or stolen and transferred to another registrar."

Godaddy has a special process to remove this lock. Contact their Review60 Team ([email protected]) and ask for "the registrant contact revert to the party that was listed prior to the changes."

Note 2: This revert will not affect the administrative contact email address which receives transfer-related correspondence.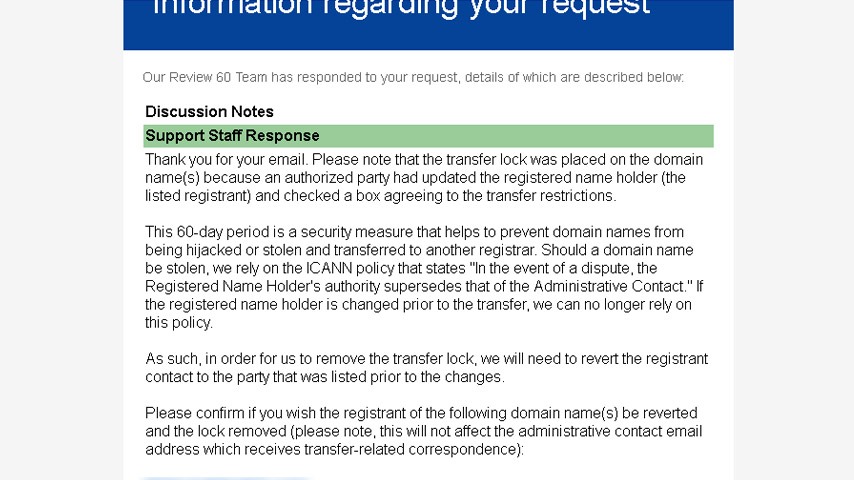 Turn off the domain lock
Sing up into your Godaddy account and click on the Manage button for the domain you wish to move away.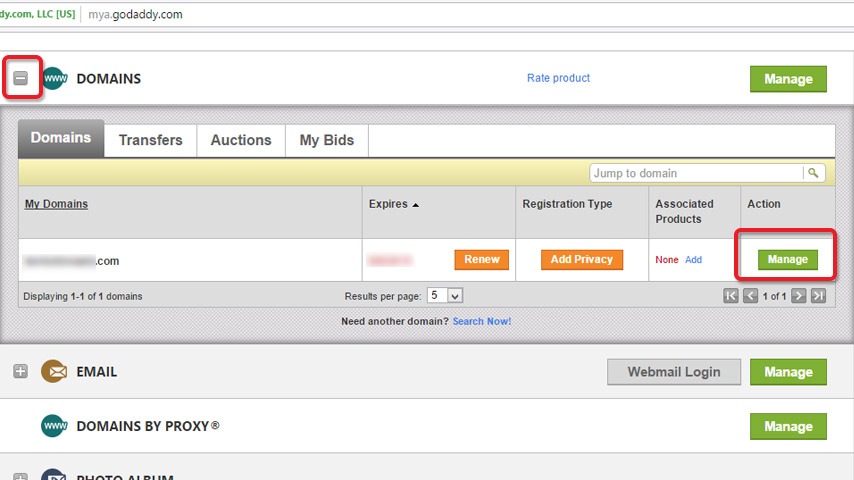 Lock "is designed to prevent domains from being transferred without the Domain Owner's express consent." It must be turned off prior to the transfer initiation.

Click on the Manage link, choose Off option and hit the Save button.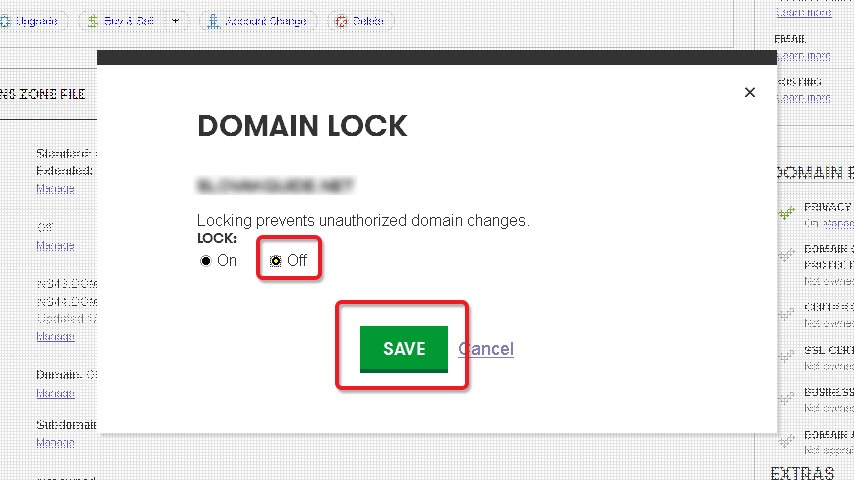 Done, you just disabled domain lock.
Cancel private registration
You need to disable privacy protecting registration. In order to make this article shorter I have split part How to cancel private registration within Godaddy into a separate post.
Generate authorization code
At the bottom of the Manage Domain page (domain name settings) click on the Email my code (Next to the Authorization Code label).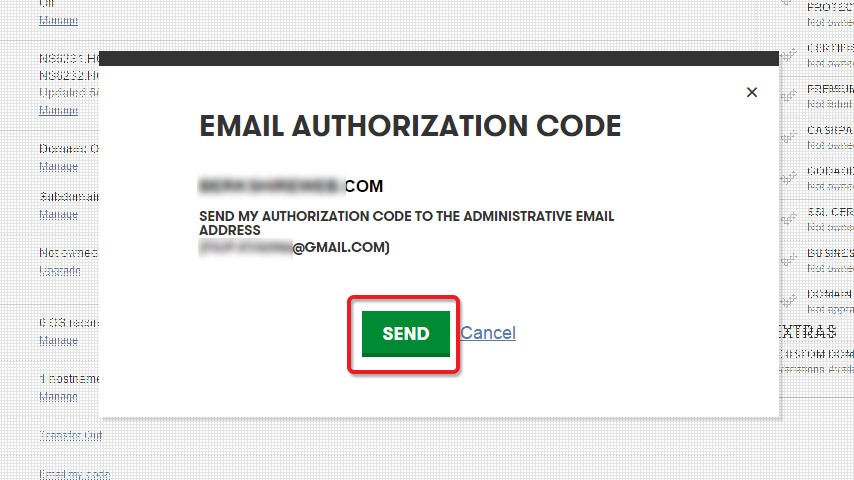 Very well, all necessary steps within Godaddy are done!
Back to the Namecheap dashboard
In the Namecheap account dashboard you will see the following or similar message: You are currently transferring 1 domains into namecheap. 1 domain requires your immediate action in order for the transfer to proceed successfully. Click on the immediate action link.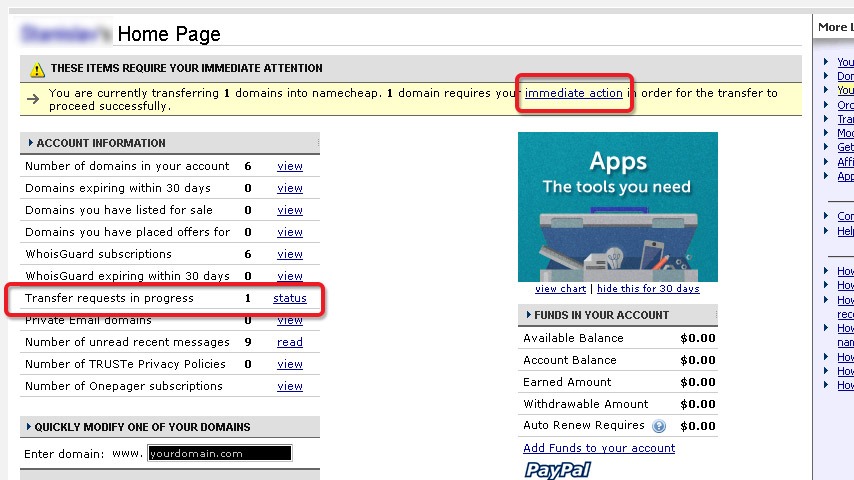 You will see Domain transfers in progress page with transfer status Waiting for EPP Transfer Code from Customer.
Click on the domain name link and enter the EPP code. EPP code is called also Transfer secret (Godday calls it Authorization code). It has many names:
The code is officially called an AuthInfo Code and an Auth-Info code by ICANN and registry operators. It is alternatively called an auth code, a transfer key, a transfer secret, an EPP code, EPPT authentication code, or EPP authorization code.
Authorization (EPP) code should already be in your inbox (Inbox for Administrator Email used in domain Whois record).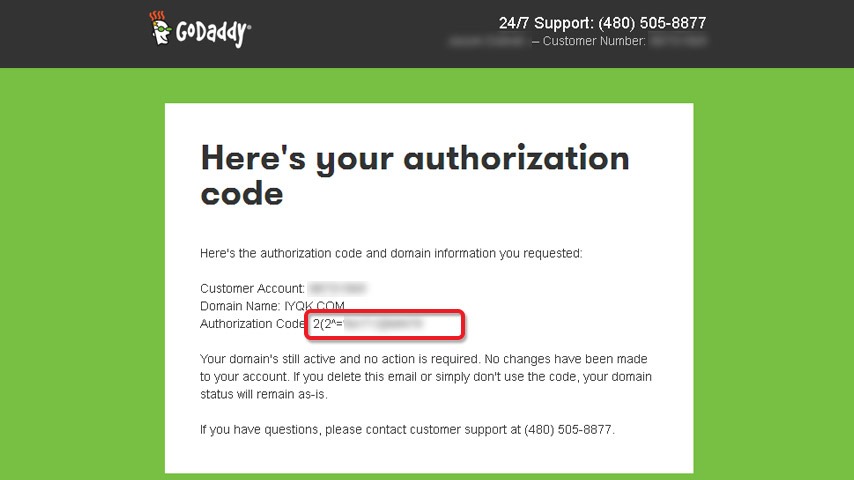 Copy and paste your EPP Code (Transfer secret, authorization code) and click on the Submit EPP Code blue button.

If everything went well, you will see EPP Code Submitted confirmation message: EPP code has been submitted successfully. You should receive your transfer approval email within the next 24 hours.
What can go wrong? For example: In my case Authorization code expired (it was several days old). I solved it by a call to the Godaddy support (customer support is really Godday strong part) and asked them to generate a new one (I couldn't manage it by myself using Godaddy's Domain manager because domain somehow disappeared).

After the EPP code was successfully submitted and there are no other issues, description of the status on the Domain transfers in progress page was changed to the Awaiting auto verification of transfer request.

It's time to check inbox for the email assigned to the Namecheap account. You will receive an email (it may take up to 24 hours) with the subject Domain Transfer Request for YOURDOMAIN.COM. Click on the link in the email body (starts with the domain Transfer-approval.com).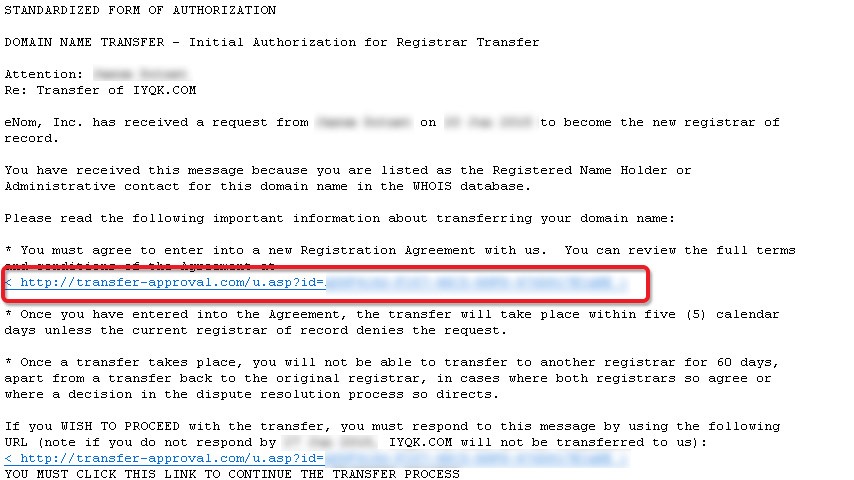 Agree with the new Registration conditions. Once submitted, you will see the message: Thank you, your response has been recorded.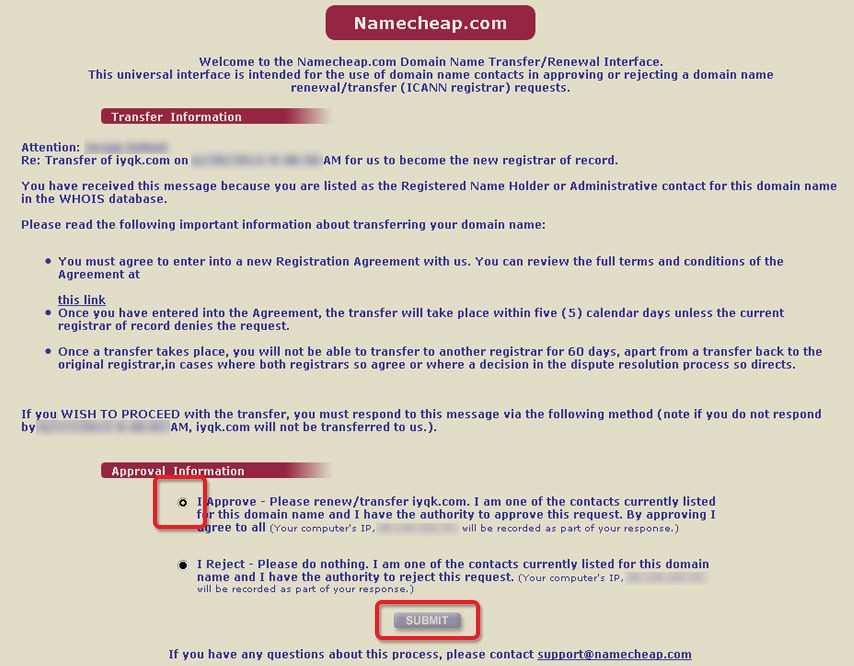 Status description on Domain transfers in progress page has been changed to Domain awaiting transfer initiation.

Accept pending transfer – visit Godaddy account for the last time
This is the part when Godaddy issues email with the subject Domain Transfer Notice asking you to accept or decline the transfer.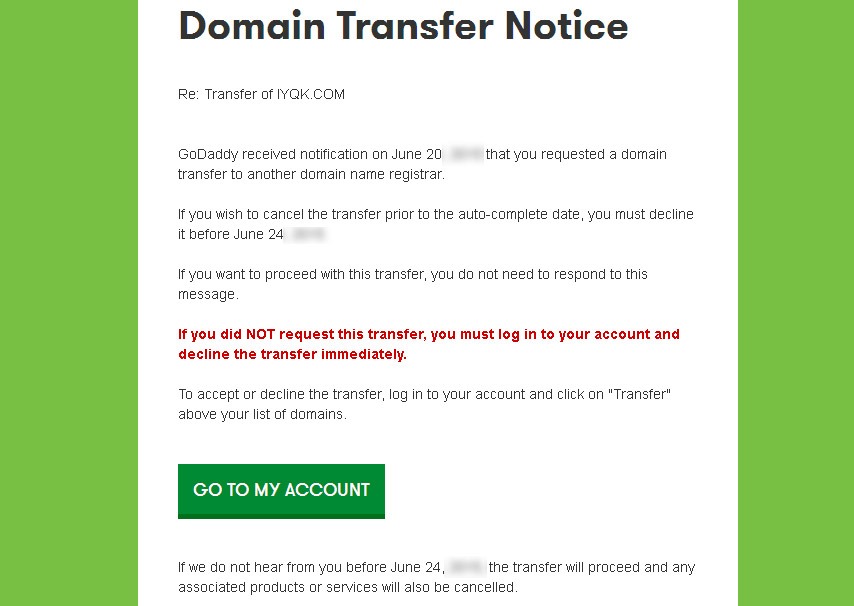 In order to accept the transfer, log into Godaddy's domain manager and click on the Transfers in the Domains menu drop down.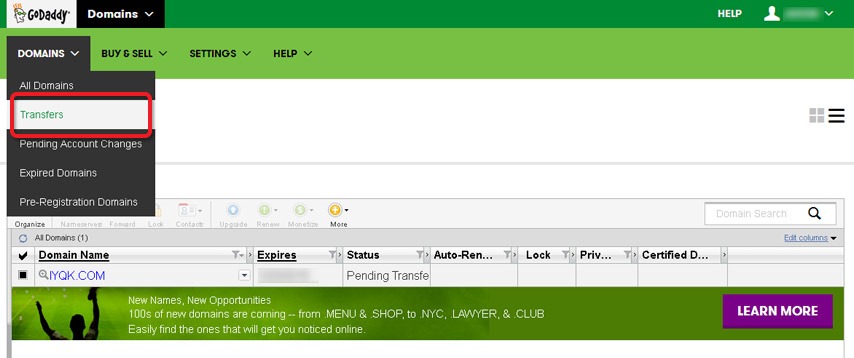 You will see all your Pending transfers out. Check the check box and then hit the Accept/Decline icon.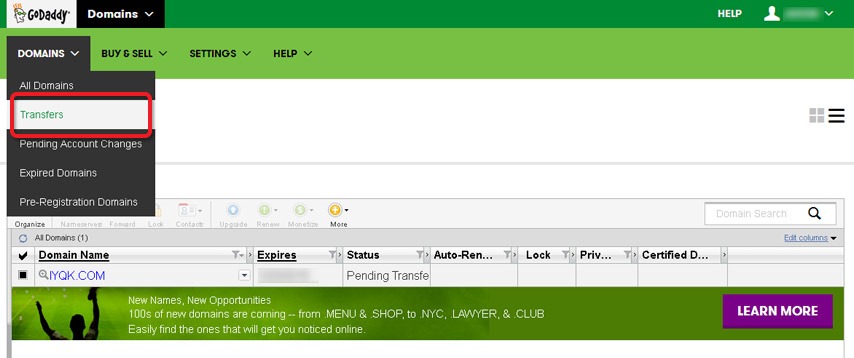 Choose Accept transfer option and then click on the OK button. You will see the message: Your request has been submitted. Changes may take 15 minutes to take effect.

Final reports
There are 3 final emails:
First one is confirmation message from Godaddy with subject "An important notice regarding your transfer of YOURDOMAIN.COM" and body "This is to confirm that the following domain names have been successfully transferred away from GoDaddy to eNom, Inc.: YOURDOMAIN.COM.COM"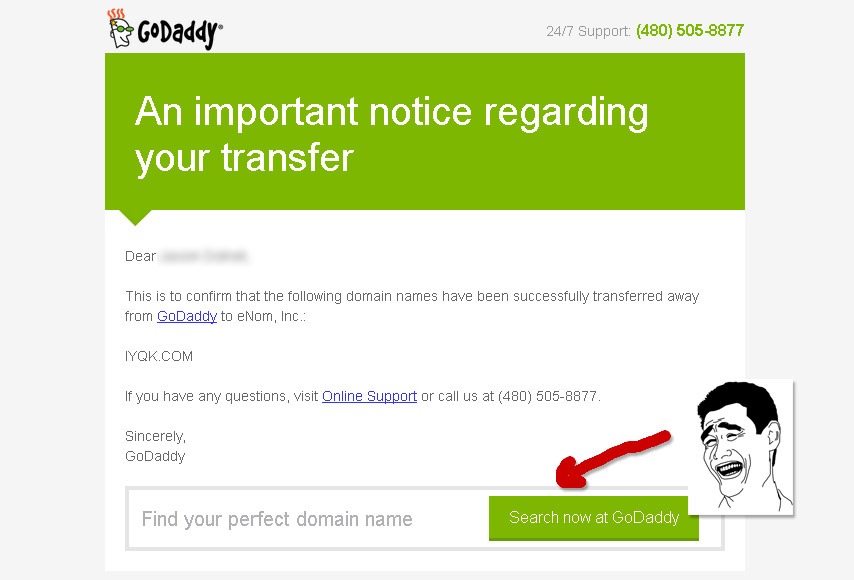 Second one is confirmation message from Namecheap (eNom, Inc) with the subject "Domain Transfer Completed : yourdomain.com"

Third is the "Item cancellation confirmation" message from Godaddy.

Congrats, you just successfully moved domain away from Godaddy to the Namecheap!