You are going to win or you just won website in Flippa auction. How to know if the site is worth of transaction and what to do if you meet scammer? What is "dispute sale" button for?
What happened? – brief description of the case
Few days back we (corporate "we", not me personally) bought one website. For your imagination it's a WordPress website build on expired PR1 domain with poor backlink profile and spun articles. It was spontaneous deal without deeper analysis and without "company meeting". Auction hasn't verified Adsense and Google Analytics. Later the deal turned out to be a SCAM because we (me personally) did the site analysis and found out that traffic consists "exclusively" from BOTs.
What other people writes about bots in logs?
Dave Buesing: What to do about a fake BS surge of Google Analytics visits? – there is beautiful solution how to prevent bots to access website using htaccess in the article comments.
Seller – first signal of the fraud
Seller made already 11 deals with total value $6.4k. His feedback is 87.5%. Why not 100%? What went wrong? One buyer stated that after sale Google banned his adsense account! Reason: BOT traffic.
Seller behavior was nonstandard. What does it mean? He didn't install Google Analytics (GA) on the site. GA is standard in the industry (all right, some of my sites also don't have GA, even this blog, but it has Piwik and if you ask I can show you basic logs, UPDATE: Jasom.net is back on GA).
We asked him to install GA (and he agreed). If he didn't agree, it would mean an immediate end of trade. Data which we got was adequate to the website quality.
Seller was pushing us to finish the sale ASAP. Another important rule broken: no time pressure. You are those who has a money and you decide how fast sale will go ahead (sure, don't make from a small deal 3 weeks drama). Take a necessary time to observe site behavior and performance.
What else can tell you that site is not worth of buy?
Open the website. What do you see? First thing what I saw was spam-like main menu. Main menu is place with links to blog, about us, contact, services, pricing etc. What is in main menu in our case? Disclaimer, Privacy Policy, Sitemap and Terms and Conditions! It's a staff which majority of us place into footer (except one marketer who "study niche sites" and has similar habits when it comes to the money sites :-).
At the time of writing this post website has 31 articles, all of them were not readable. It was poorly spun content. Other word suitable for content description was SPAM.
What about domain name registrar?
Domain is registered with GoDaddy. Whois record is not protected so I can see seller claimed details. When I check his email for other owned domains I found same low quality MFA websites. Domaintools shows different printscreen than is currently enabled theme. It does explain why I found domain in Domainvader.com expired domains list.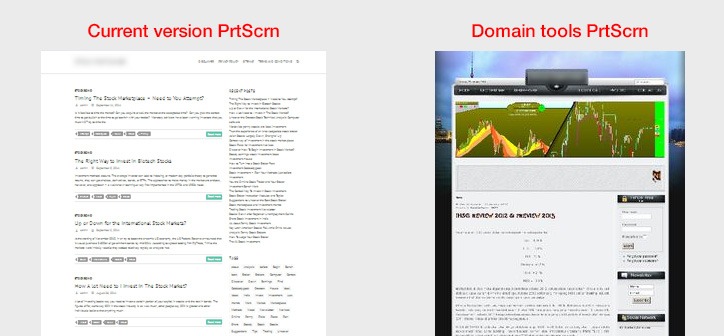 There are also 2 other techniques how to find more website associates with an individual. I don't want to mention them publicly right know. Why? Because I created product called website due diligence: In the middle of writing this article I realized that I know how to analyze sites and I'm able to create pretty solid report on website quality.
These techniques helped me to find even more MFA SPAM sites owned by seller. All have same pattern (spun content and legal links in main navigation). I believe that Google manual review would immediately remove them from index.
Next round: Archive.org and backlink tools
Archive.org has recorded no regular version of website. It shows only redirects to domain.blogspot.com.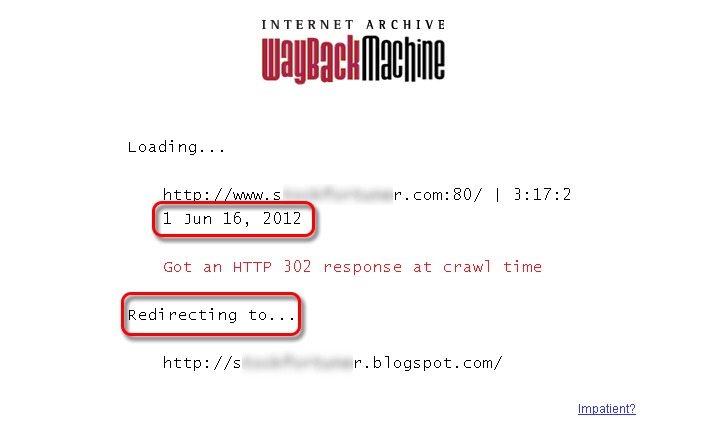 Blogspot blog (language is not English 🙂 contains some backlinks to domain. When I opened domain.com/privacy.html WordPress returned 404 – page not found message. Another sign of poorly build website on expired domain. Our amateurish scammer doesn't even redirect old backlinks.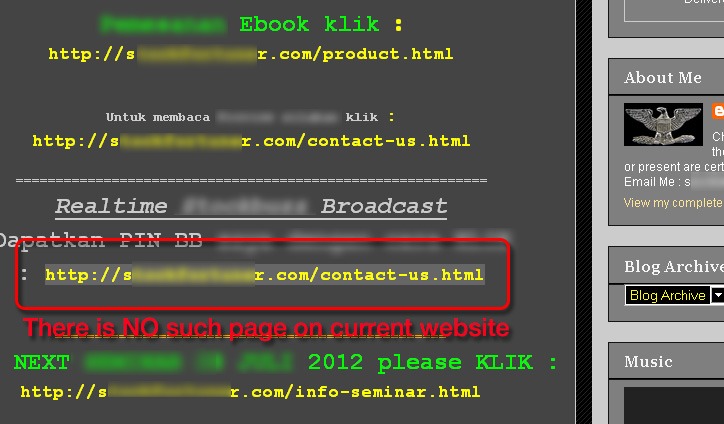 Domain has Pagerank 1 with only 1 backlinking domain indexed by Majesticseo. Ahrefs returned 4 backlinking domains (BLD), OSE returned 1 and the newest backlink tool I started to use returned only 2 BLD.
Google analytics on the scene please (what do logs say?)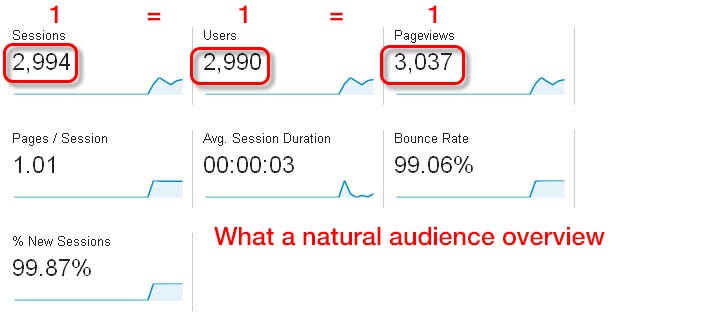 GA was online 1 day and "we are done". Site has low "quality" traffic. Sessions, users and pageviews are in 1:1:1 ratio. It means that "visitors" will open 1 page, stay here few (3) seconds and they forever leave (99.87% new sessions).
Just one day with GA on and I was able to discover what is behind "success" of this "poorly build" website. Seller ordered (or operate himself) BOT (fake visitors).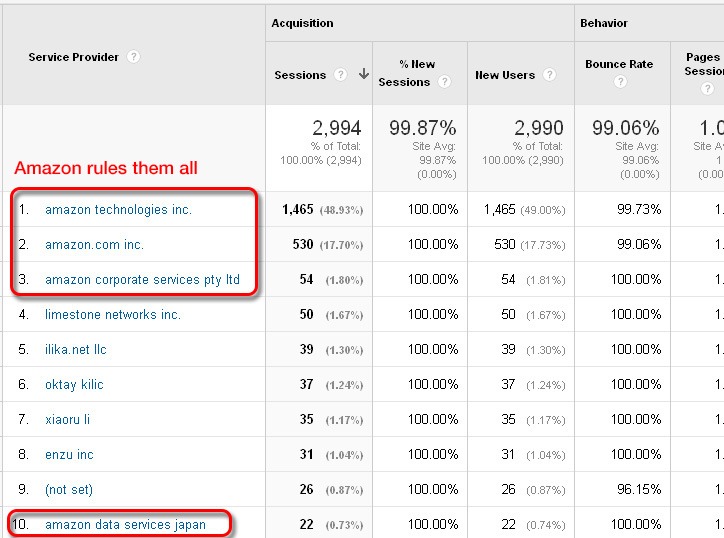 This is what I see under service provider. Amazon rules them all. This is list of top 10 network services BOTs came from:
amazon technologies inc.
amazon.com inc.
amazon corporate services pty ltd.
limestone networks inc.
ilika.net llc
oktay likic
xiaoru li
enzu inc
amazon data services japan
I think that list above represents companies where you can order and run VPN server. The vast majority of "visitors" come from United States (70%) specifically from 4 locations: Bellaire, Boardman, Ashburn and San Jose.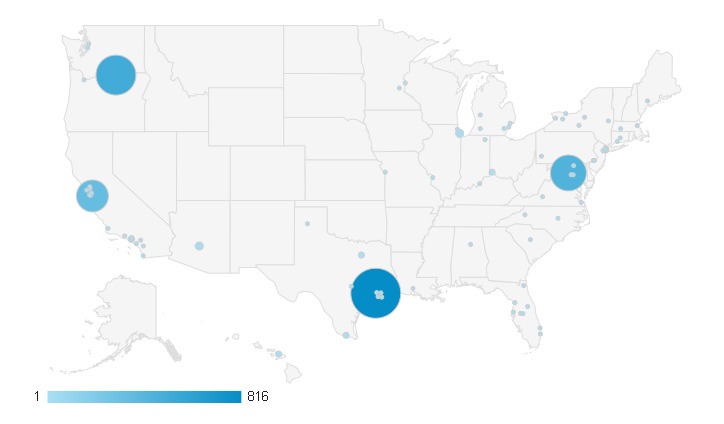 I think that behind success of this BOT network (BN) is diversity. Network achieved good technical diversity. For example accessing browsers page display nothing suspicious. BN creator probably uses some official statistics about latest browser popularity.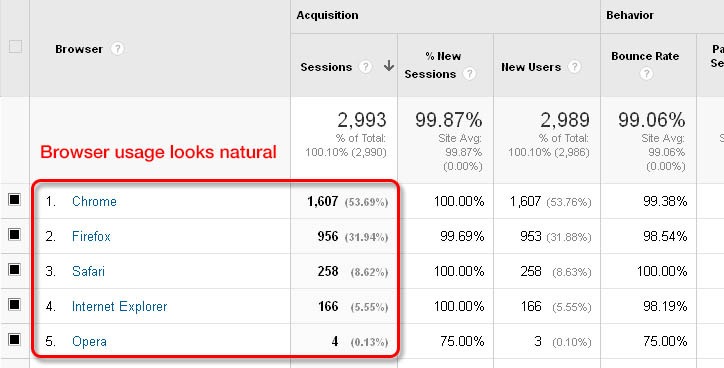 Operating systems have also sufficient diversity: Windows has circa 56%, Mac 30% and Linux 14%. Bots also diversify Win version. Google analytics reports that 52% of them are on Win 7, 38% on Win 8 and 9% have Win XP.
Screen resolution differs too.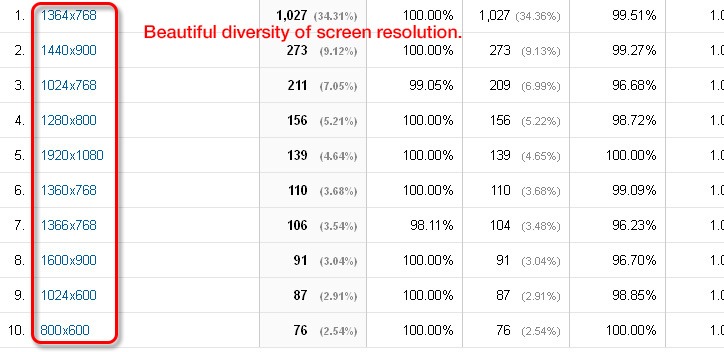 Bots have also weak points. Small fraction of them supports JAVA (1.24%) and they have also problem with flash.

Site has no mobile traffic. I would like to stress that we are living in era of smart phones and tables. It's another weak point.

That's nothing. Next in order is user acquisition. Most of them visit site from Google search. Too much to believe it's natural. Especially if you saw previous indicators. But OK, let's find which keys words they search for. Hmm… nothing (100%) is available.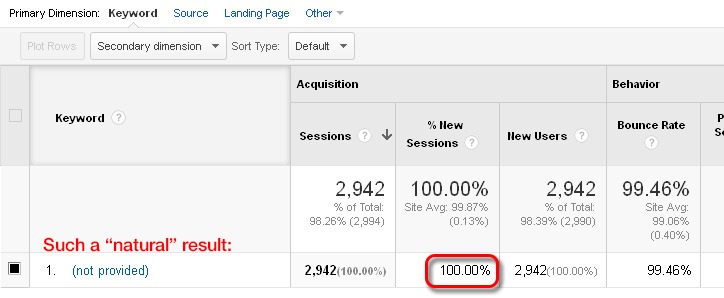 Dispute sale
Which action take next when you won a Flippa action and you decided to get rid of it? According to Flippa support you should click on dispute sale button available 72 hours after end of the auction and that's what we did.
Update: Flippa sent an email with a subject "A Dispute's Been Resolved." Auction was annulled.
So how to avoid (Flippa) website scam?
Are you also facing an attempt to fool you? Do you want your own website due diligence report? Submit the form and I will create similar report for your website.