Aeromobil 3.0 had an "aircident" (air accident). Vehicle piloted by constructor Stefan Klein crash landed near an airport in Nitra, Slovakia on Friday, May 8.
Car was at a height of 300 metres (900 feet) when the experimental prototype "encountered an unexpected situation." Klein managed to eject car's advanced ballistic parachute system what helped to soften the landing. Collected data are being analyzed.
Flying car fell into field near Janikovce airport. After a crash, pilot was able to communicate and get off the plane on his own. "Pilot, who was shocked, walked away from [crashed] airplane," added police spokeswoman Bozena Bruchterova.
"When we came, he was already in the hands of rescuers," said Viliam Pansky, spokesman of the fire department. Ambulance transported Mr. Klein to the Nitra Faculty Hospital where examination of his health condition took place. According to the company's official statement, pilot suffered no injury.
Crashed Aeromobil has damaged front part and broken wing. "It's prototype, experiment. It's has no accident so far, " said pilot of the glider Milan, who introduced yourself as Klein's friend, local press informed.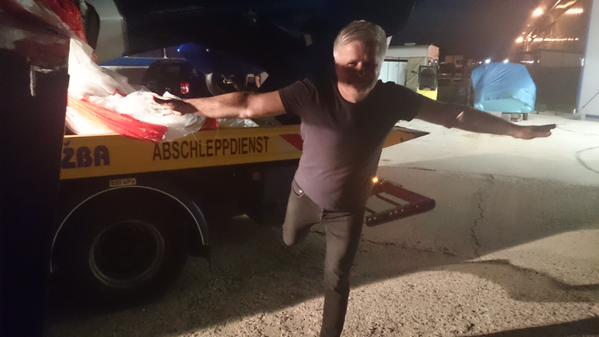 Aeromobile co-founder, Stefan Klein, performs "swallow figure" after the aircident from May 8, source.
Complete Aeromobile statement:
Saturday, May 9, 2015 — The AeroMobil 3.0 experimental prototype is currently undergoing a rigorous analysis and testing programme. During one of the test flights that took place on May 8, 2015, the inventor and test pilot, Stefan Klein, encountered an unexpected situation and activated the advanced ballistic parachute system in an altitude of approximately 300 meters (900 feet).

The system has proved itself fully functional and landed the entire vehicle without any injury to the pilot. The detailed data and overall experience from this test flight will be thoroughly analyzed and the results will be used in the ongoing R&D and improvements of the prototype. Testing of the current prototype 3.0 and further product development will continue after the replacement of the damaged parts.
More photos here:
My conclusion
Such things tend to fall from time to time. It's good to know that aeromobile already has security system which can result in "soft landing" like that (alias it doesn't kill its owner). #DontBelieveFoundersWhoDontUseOwnProduct